TSB #132 - January 30, 1970
(L-800-900 and 8000-9000 Trucks - 1970 Model)
---
The 1970 L-800-900 and 8000-9000 trucks incorporate an adjustable driveshaft center bearing support plate to facilitate driveshaft alignment. During pre-delivery of each new vehicle the driveshaft alignment should be visually inspected to assure that the bottom of the center bearing is parallel to the driveline, and that the insulator is centered in the bracket and square to the drive-shaft.
If either of above are not correct, realign using the procedure outlined below:
1. Loosen nuts A, B, and C (6 total) so they are finger tight — see Figure 9 .
2. Raise or lower the driveshaft as required to position the bottom of the adjustable support plate parallel with the drive-shaft and torque nuts A and B to 35 ft. lbs. — see Figure 9 .
3. Center the bearing rubber insulator in the center bearing bracket.
4. Adjust the center bearing assembly to position the rubber insulator square to the driveshaft and then torque nuts "C" to:

7/16-14.............60 ft. lbs.
1/2-13...............90 ft. lbs.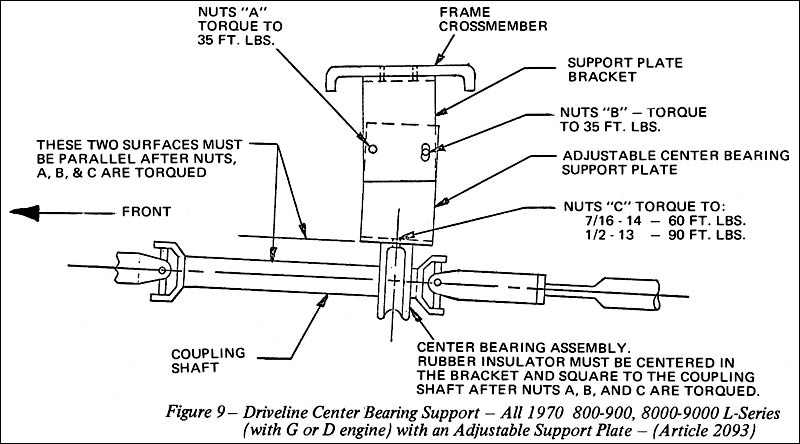 PRODUCTION CORRECTION: Approximately January 12, 1970.
WARRANTY STATUS:
Reimbursable within the provisions of the Warranty & Policy Manual.
Time: Actual time as defined in the Warranty & Policy Manual, Introduction Section, page 5.
DLR. CODING: Basic Part No. 4831 - Code No. 07