TSB #131 - January 16, 1970
(1970 Fairlane Models 63, 65, 66 and 76)
---
To determine the cause of high operating efforts, check first to insure door glass belt outside weatherstrip is fully seated to the door insuring that the screw in Figure 19, View A, is seated. Then, if required, remove the trim panel and review the regulator arm to front channel attachment to assure that the arm is horizontal in the channel as illustrated in View B. Then measure the distance between the outer seal and the glass; if this is less than 3/8 inch, it will be necessary to shim the upper run attachment inboard. Procure one 3/8" I.D. x 7/8" x 3/16" thick Flat Washer (Part No. 351415-A or equivalent) and one 1/4"-20 x 7/8" Hex Washer Head Screw (Part No. 57031-S2 or equivalent) for each run assembly. Remove the existing 1/4"—20 x 5/8" screw that attaches the run to the door flange and reinstall the run with the above procured parts as shown in View "C" of Figure 19.
NOTE:
Access to the front run upper attachment on all models and the rear run upper attachment on the Fairlane Model 66 can be gained at the belt by removing the lower stop and dropping the window as low as possible. To gain access to the rear run upper attachment on all vehicles except Fairlane Model 66, it is necessary to remove the run and bracket assembly in order to install the washers.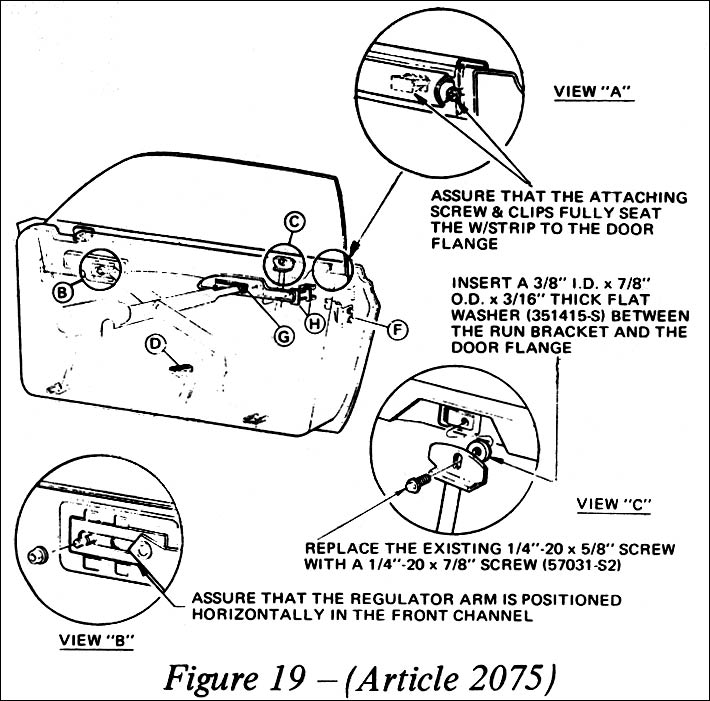 PRODUCTION CORRECTION: Approximately September 5, 1969.
WARRANTY STATUS:
Reimbursable within the provisions of the Warranty & Policy Manual.
Operation: SP-21410-A-70 Time: 0.6 Hr.
DLR. CODING: Basic No. 21410 - Problem Code 41